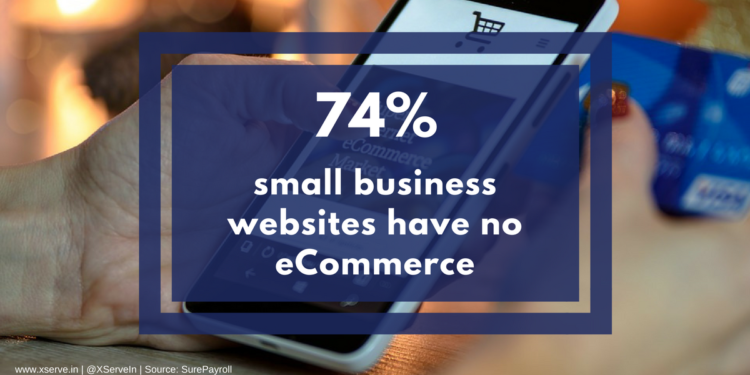 Small business data from one of SurePayroll's small business scorecard reveals that 74% of small business websites do not have eCommerce features on their website. Only a quarter of small businesses use their website to conduct sales. Even with growing ease of online purchase and preference of customers to buy almost everything online, 42% of the small businesses surveyed said that "the Web really isn't that important to their business". And consider this – 28% of the small business owners said that they don't even have a website.
If you are still considering whether you need an eCommerce website for your small business, let us look at the following statistics:
In 2016, an estimated 1.61 billion people worldwide purchased goods online
In 2016, global e-retail sales amounted to 1.9 trillion US dollars and projections show a growth of up to 4.06 trillion US dollars by 2020
eCommerce share of total global retail sales in 2021 is projected to be 15.5%, almost double of the 7.4% share in 2015
The present business scenario, customer preferences and recent trends make it essential for every business to work on their digital strategy:
It starts with creating a unique digital identity: the starting point is registering a relevant and easy to remember domain name, signing up for website hosting and creating a business website.
Add an online store to your website to let customers buy goods online. Small businesses from the service industry should allow visitors to sign-up or subscribe for services online.
A website with eCommerce is the starting point. You need to link it to your social media profiles. More than 23% buyers get influenced by social media reviews while making an online purchase.
Make it easier for customers and visitors to interact with your team. Provide them multiple channels of communication including web chat and website forms.
Integrate website analytics to track and analyze visitors to your website and social media profiles. This data would help in optimizing the design and content of your website.
Keep a track of returning visitors. It is a good idea to offer discounts and coupon codes to encourage visitors to subscribe for updates and sign-up for membership benefits.
Similar to traditional advertising, decide a budget for digital marketing – social media ads, PPC, e-mail marketing. Tailor your marketing strategy and ads based on the website analytics reports.
As the statistics suggest, setting up an eCommerce website and using digital medium for marketing is essential for customer engagement and increasing sales. So why are you missing out on Sales? Act now.
Please share if you like our post: